A Beginner's Guide to the Prospect Evaluation Process
Before I say anything at all here, it is important to know that everyone has a different scouting process. Everyone. Scouts within the same scouting department even have different processes. The way I grade prospects may not be for you, and that is okay! You may think I have no idea what I'm talking about; that is also okay! You are absolutely entitled to that opinion, and I know some of the feedback I will get on this piece will be just that. But I've seen a ton of intrigue from new dynasty fantasy football players or just general lovers of football on how to start grading prospects and I want to share what I do in an effort to give a blueprint to those who aren't sure where to start. I will never claim to be an expert. Scouting is fluid; the game changes as eras change, with team structuring differing (e.g. 1980s football versus 2020s football; extremely different) and team methodology dictating what personnel is most ideal. So where should you start?
Step 1: Determine What to Watch For
Okay, so you're ready to start scouting. You sit down at your computer. You pull up YouTube (you'll want to do this less than you think, but I'll get to that later) and start watching the top-ranked quarterback in the 2022 NFL Draft. You tell yourself, "yeah, I absolutely understand the hype behind Sam Howell." You pull up Spencer Rattler tape. You tell yourself, "yeah, I absolutely understand the hype behind Spencer Rattler." You realize that you're not sure how to separate them. You panic.
Determining the traits and skills that comprise good prospects at respective positions is, in my opinion, the most important part of scouting and player evaluation. Randy (@RHallNFL) and I have spent hours and hours determining our rating system. Sharing the ratings would become fairly tedious, as they differ for each position. The tidbit I will share is that athleticism should be included in your evaluation of every position. If you struggle to identify athleticism from watching film at first, head over to Kent Lee Platte's Twitter (@MathBomb) and check out the Relative Athletic Score of the prospect you're watching. This is a very good tool. The NFL has shown time and time again that they will draft athletes with less skill; you can teach those, but you can't teach athleticism. Our rating scale is comprised of 9 traits/skills for each position. We then incorporate production and analytical metrics, but I will touch on that later. If you feel like 9 is too many, you can condense. If you feel like 9 is too little, add some more! Find the traits that you personally think are most indicative of success at the next level. A good way to do this is to watch the best of the best (at the NFL level) through a scouting lens to see what is important.
My recommendation: write those traits/skills down somewhere. We personally have a 25-sheet workspace that we can sort by individual traits, overall grades, prospect names, etc. Some (not all) examples of what we use:
QB:
Ball placement

Arm strength

Off platform
RB:
Vision

Footwork

Contact balance
WR:
Release

YAC ability

Hands
TE:
Blocking

Hands

Physicality
How do you determine what is good versus what is bad? Constantly furthering your education in the area. It would take me hours and hours to explain exactly what I look for, and I'd be happy to explain via DMs on Twitter; hit me up there with your questions there if you are interested!
Step 2: Determine Who to Watch
One of the most difficult parts of scouting, in my personal opinion, is determining which prospects to watch. Some start with seniors with the assumption that they will be declaring one way or another. Others start with top prospects and work their way down.
I'm the latter. While I have an incredibly useful database thanks to Jake Barrow (@DoABarrowRoll) that helps me gather names that I should be watching, it's perfectly fine to just Google search "2022 NFL Mock Draft" and take the prospects that are highly touted as summer scouting is happening. If you're serious about trying to scout and gather opinions on players, my recommendation for this section would be to create your own prospect database in Google Sheets or Excel. I gather as many sources as I can to create my database, from the aforementioned one Jake has put together to others that I will share if I'm ever allowed. My current 2022 NFL Draft database has over 650 potential 2022 prospects. From there, I go position by position, but I will get into that in a little bit.
Step 3: Find the Film
YouTube highlight films are not ideal. I repeat: YouTube highlight films are not ideal. Highlight films only show the positives. Have I popped on highlight films to get a general gist of what a player's base skillset looks like? Absolutely. Would I ever craft an opinion from a YouTube highlight film? Absolutely not. So what's the alternative?
Search "*insert player name* vs." in YouTube. There are incredible people who make cutups of game film, and typically every snap from a given game. It'll typically be broadcast game film, but for certain positions, you can get a pretty good look at what a prospect does well and where he needs to improve. If you're really serious about scouting, Caddy's Cutups is a great Patreon that has tons and tons of All-22 coach's film. There are a few different membership levels, but the guys putting together those videos can only be classified as saints, if you ask me. The All-22 film allows for you to further understand what a prospect is doing well and what he isn't, and it's especially useful for secondary players. I highly recommend you acquire as much All-22 as you can. Broadcast views largely leave you guessing on certain things. For example, does a QB miss a check down, or did he see something downfield that was off the screen? At which point in the route does the wideout win? Tons of information can be unraveled when you have All-22.
Step 4: Give Yourself Some Pause
If you pull up a prospect's best game - knowingly or unknowingly - and start crafting your evaluation, you've already submitted to the fact that you're okay with bias. Some people prefer to scout what players can do rather than what they can't. I prefer to talk myself out of players. If I see a player like Justin Fields that I think is a generational talent, I'm watching as many games as I can before I start firing off tweets, putting any type of final grades on, etc. So how many games should you watch before you really start to craft an opinion? With quarterbacks, I'd argue 4-5 are required to really get a feel for consistencies in what a player is capable of. With other positions, it just depends. I've been ready to toss a final grade on a prospect after 1.5 games because there's so much snap-to-snap consistency.
Traditionally, I watch 2-3 full cutups before I put any sort of rating on a prospect. After that, I start to chip away at things. Sometimes, a player's flaws pop out fairly quickly (a good example would be a bad release for wide receivers). I still tend to give myself some pause before I toss my grade down; maybe I caught two games where he had an ankle or foot injury that limited him. Eliminating as much bias as possible is crucial to crafting a good evaluation. I'll be the first to tell you that I was way off on Justin Herbert. I made up my mind early, didn't weigh things properly, and thus, missed on a great player. Your goal should be to minimize how many misses you have, right? Eliminating biases is vital to doing so.
How many games suffice for a final grade? At least 3, in my opinion, but preferably more. With quarterbacks, watch every game possible. If you don't have that kind of time, try to hit on a) the best game b) the worst game and c) the game against the best offense/defense. Those three are my baseline if they are available.
Step 5: Watch Multiple Years
If a player has one year of film, obviously you can skip this step. But the meteoric rises of Joe Burrow and Zach Wilson are fairly rare; one-year wonders are normally a bad thing. Gathering information from previous years can indicate what a player may struggle with in his first season in the NFL and allow you to slow the hype behind players who may have something that isn't as sustainable as the masses think. Players like Trevor Lawrence, Jonathan Taylor, Calvin Johnson, etc. who showed traits and skills the moment they stepped foot on a college football field should be evaluated as safer, if not better, than those one-year wonders. The same can be true in reverse, right? If you watched Jordan Love's 2019 season alone, you'd probably think he's atrocious. If you watched 2018 (when he should have declared), you have a vastly different view of what Jordan Love could become. Multiple years of viewing only helps to show growth or regression, in my opinion, and allows for a more holistic evaluation.
Step 6: Think About the Generationals
Photo by Streeter Lecko/Getty Images
It's easy to say that Patrick Mahomes was the greatest QB prospect that we've seen when he threw for 50 touchdowns in his first full year of starting in the NFL, right? Well, the truth is that he wasn't a perfect prospect, so judging all other prospects based on his NFL body of work wouldn't be fair. When I think of my personal generationals, I think of the Andrew Lucks of the world. The Myles Garretts. The Kyle Pitts-level players. It doesn't matter if you grade on a 10-point scale, a 5-point scale, a letter grade, etc. Whatever the scale, these are the near-perfect prospects (no prospect is perfect!). So if Andrew Luck is the poster child for generational prospects, all other quarterback evaluations should consider Luck as the baseline. Some people grade within the class; you can do that, but then it's difficult to return to your evaluations and talk about how you would have ranked players across multiple classes. I used to do that, but have found it largely beneficial to transition into a consideration for the generational prospects.
Step 6: Toss Your Grade Down Blindly
I talked about the workspace that I have that is sortable earlier. I never sort while I'm still putting grades down. I wait until I'm completely done with my evaluation to sort within the class. Why? Because of bias. If I sort before I'm done and notice I graded Player A ahead of Player B, I'm more liable to subconsciously fix that if I disagree with my own evaluation (I do this a lot). Normally, I'll watch 3-4 prospects at the same position at a time to get a feel for how large the discrepancy is between Prospect A, B, and C. This has helped train my eyes to identify deficiencies (someone is going to tell me I still don't know what I'm looking at, I can just feel it as I type this sentence) and standout strengths in a prospect's game. For example, if you watched Kyle Pitts, Hunter Long, and Tre' McKitty back-to-back-to-back in 2021, you would have been able to tell the difference in route running nuance between them fairly easily. Then you would have been able to clearly see the differences in blocking technique from Hunter Long to Tre' McKitty. And so on.
Grouping prospects together like this makes for an easier go at giving proper grades, rather than tossing a purely subjective number/letter down for each player and realizing that some of them came out too similarly.
Step 7: Consider the Metrics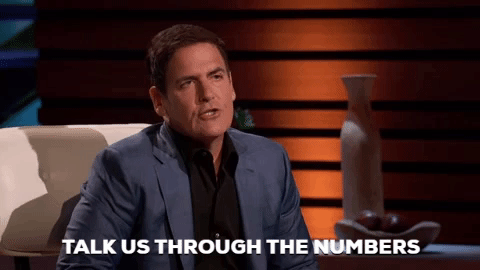 I'm always going to advocate for some type of split between film and analytics. 90% of our grades are film-based, but 10% include production and analytical metrics. Ignoring correlative data is fine for some, but it's not something that I will ever do. Not everything can be found on film, and furthermore, not everything can be found within the numbers. This is where you have to be decisive; how much do you want analytics to play a role in your grades? Some will say 90% analytics and 10% film; that's okay! Remember: there's no 100% accurate way to evaluate prospects. Just ask NFL GMs.
Step 8: Evaluate with Conviction
Often times, there are players that get a ton of pre-draft hype from the NFL Draft community, NFL scouts, etc. that just don't end up being viewed as highly by NFL teams. If you think that a hyped up player isn't deserving of that hype, don't change your grade because of said hype. Trust yourself. If you don't think you're quite there yet, speak with people you trust. I talk a lot with all of my co-hosts and friends who also evaluate prospects. If they think I'm wrong, I'll revisit. That doesn't mean I'll change my grade every time. It does mean that I don't get stuck in 'take lock' and thus, backed into a corner. The phrase "NFL scouts say this player is good, so I think this player is good" is honestly the opposite of how I feel. Trust your gut.
Step 9: Publish Your Thoughts
The thing that people always want is some level of accountability. Publishing your thoughts doesn't indicate that your grade is final, but it does allow for those consuming your content to get a gist of if you have a sound process. When I wrote my Justin Fields article, the most common piece of feedback I got was, "I don't necessarily agree, but I understand your justification." If you publish your thoughts, be ready to back up what you're saying. This is good in any form of media, too. If you're only tweeting your thoughts, that's fine, too. If you don't want to expose yourself to scrutiny, that's also fine, but you're less likely to learn. I've had disagreements with people and revisited and realized I missed a large chunk of a prospect's body of work; it's okay to admit that you were wrong if you see something new that changes your mind about a prospect. Allowing yourself to gather productive feedback from others will make you a better evaluator.
Bonus Step: Find Pieces of Media that Teach Schemes
Understanding scheme is important, and it's something I am nowhere near an expert at. A 3-4 EDGE may not be a fit in a 4-3 scheme, and that limitation may cause the player to fall further in the draft than your beliefs would dictate. That shouldn't change how you grade their talent, but it should change how you view expected draft capital. I try to do this as much as possible before I head into a new college football season in order to fully understand the nuances of what a player is being asked to do; not being asked to do something and being incapable of doing something is a distinction that is often difficult to make, but if you can, it's also incredibly beneficial to a halfway accurate evaluation.
Obviously, a ton of these steps can be skipped once you've established your process. Start to finish, this is what my process now looks like (now that I've gathered my database):
Open up the workspace

Pick a position I want to watch

Pick 3-4 players I plan to watch during that particular sitting

Open the film database

Watch. Sometimes, I'll take notes (but most of my notes are mental notes)

Continue watching until I'm ready to toss a number out for a certain trait or skill.

Fill out every grade for a prospect and finalize a grade (preseason grades right now).

Get my mind ready for the trolls

Publish what I think
Evaluating prospects is hard. No one has ever or will ever be 100% accurate. The best of the best miss on players, and for a variety of reasons (mental makeup, personal matters, misjudged skills, etc.). I want to reiterate that I am no expert. I do stand behind my process. I do trust my eyes. I do consistently push myself to learn more so that I can give opinions that have a higher chance of being accurate. I don't ever get content with my evaluation process. I always look to refine my eye when I'm watching players, find more correlative metrics that indicate success, and ultimately, become a better prospect evaluator. And I hope that this combination of things is useful to you, so you can evaluate prospects, as well.
My DMs are always open, and you can find me @CWilliamsNFL on Twitter if you have questions or feedback!
Until next time!